Posted by: Eyecare Associates of New Orleans in General on October 12, 2022

WRBH 88.3 FM Radio Hosts 8th Annual "A Blind Taste Event" at La Petite Grocery and Raises $34K To Continue its More Than 45 Year Legacy of Service to the Blind
Event returns after two-year hiatus due to COVID with EyeCare Associates as one of the main event sponsors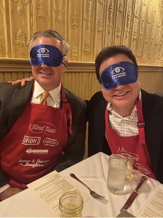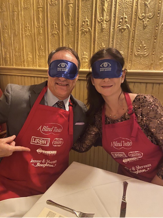 NEW ORLEANS – (Sept. 28, 2022) – Earlier this month, WRBH 88.3 FM Radio hosted its 8th annual "A Blind Taste Event" at La Petit Grocery and successfully raised more than $34K to continue its more than 45 year legacy of nationwide radio broadcasting for the blind. The intimate dining fundraiser blindfolded its guests throughout a five-course meal, to provide them with not only a heightened tasting experience and help them gain awareness of some of the challenges their listeners encounter. The meal was prepared by La Petit Grocery's James Beard Award-winning Chef Justin Devillier and EyeCare Associates was one of the main sponsors of the event. This was the first year that the event came back since COVID (in 2020 and 2021) and it sold out yet again, with 79 attendees, just as it had every year prior.
"A Blind Taste is an event with the goal of increasing awareness of what it is like to live without sight, but it is also an evening of great joy for everyone that attends. WRBH Radio, for 40 years, has been a gift to those with sight issues and this is a way to celebrate all our listeners." said WRBH Radio Board member and event emcee Angela Hill.
La Petite's refined culinary offerings were on full display with expert wine pairings for the entire evening provided by NOLA Wine Merchant. The passed hors d'oeuvres were a trio of blue crab beignets, Cornmeal pancakes with smoked drum dip & trout roe, and Pan de mie with mushroom conserva, buratta, and basil pistou. The subsequent 5 course meal featured chilled gulf shrimp in a delightful green curry with fried peanuts, Parisian gnocchi in a roasted garlic and fennel cream, seared duck breast with a smoked crowder pea cassoulet, pan roasted gulf fish and sweet potato, ginger, bok choy, lemongrass butter.
"Our practice and doctors were proud to partner with such a meaningful and noteworthy organization," said Tom Spiers, WRBH board member and EyeCare Associates Regional Director of Operations. "Although our eye doctors know how crucial eyesight is to one's quality of life, it's also important to put ourselves in others' shoes – even if temporarily – to better assist those who experience any and all forms of blindness."
Several auction item packages were sold too, including one with Saints tickets in the Humana Suite and a stay at the Windsor Court Hotel, another with a private tour of Porchjam Distillery, tasting at the Sazerac House and cooking classes at Casa Pelican, and lastly, a porch concert from The Walrus: A New Orleans Beatles Tribute Band.
WRBH became the United States' first 24-hour reading radio station for the blind in 1982. Today, it remains the country's only full-time FM reading radio service and is one of only three such stations in the world. Thanks to the invaluable service of its volunteers and financial assistance of its supporters throughout the event, the nonprofit can continue its mission of broadcasting readings of newspapers, books, and magazines so that the blind and print impaired receive the same ease of access to current information as their sighted peers.
About WRBH Radio
WRBH 88.3 FM, Radio for the Blind and Print Handicapped, is a 501(c)(3) non-profit organization and is the only full-time reading service on the FM dial in the United States. WRBH offers a wide variety of programming, including local and national news, best-selling fiction and non-fiction books, magazine articles, children's books, event calendars, interview segments, health programs, cooking shows, and grocery store ads, as well as shows geared toward Spanish, Haitian, and Vietnamese communities. This programming is available 24 hours a day, 365 days a year thanks to nearly 150 dedicated volunteers who donate nearly 5,000 hours annually, allowing WRBH to fulfill its mission to turn the printed word into the spoken word so that the blind and print impaired can receive the same ease of access to current information as their sighted peers.
To learn more, visit: www.wrbh.org
About EyeCare Associates
EyeCare Associates has cared for families in the New Orleans community for more than twenty-five years and has served several generations of family members. Our practice is comprised of a network of ophthalmologists, optometrists and opticians that provide patients with the highest quality surgical and non-surgical care for the treatment of a variety of ocular diseases and vision problems. Our doctors' experience, combined with a personal commitment to their patients' comprehensive eye care needs, have made them some of the most highly respected and trusted eye care providers in the South. Aside from New Orleans, EyeCare Associates has also served Metairie, Chalmette, Houma, Raceland, and Thibodaux areas and beyond.
To learn more, visit: eyecareneworleans.com
---