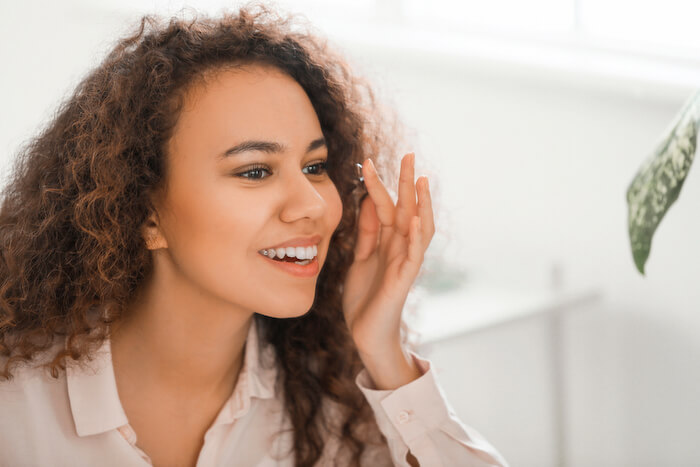 Patients who were previously unsuccessful wearing contacts or were told that they couldn't wear them are now enjoying the freedom that newer lenses offer. Individuals with prescriptions that in the past were too complex to be corrected can now experience vision that is superior to that achieved with eyeglasses.
Our Doctors, who are experts in hard to fit contact lenses, frequently get referrals from other Physicians to fit these difficult contact lens cases.
Advanced technology also affords greater comfort. A variety of new materials are now available that conform to the shape and contour of the surface of the eye, better than ever before. When lenses fit properly, patients rarely experience discomfort or irritation.
Multifocal contact lenses are great for those patients who are currently using bifocal glasses or reading glasses. Multifocal contact lenses offer the best of both worlds: no glasses, along with good near and distance vision.
Monovision is a great alternative to Multifocal lenses if near vision is your only problem. Wearing a contact lens in one eye allows you to focus well at a distance while enabling you to see up close without the hassle of "readers".
Silicone Hydrogel is the new generation of "super-permeable" contact lenses that can transmit unprecedented amounts of oxygen to your cornea and, in some cases, enable 30 consecutive days of wear without removal.
SynergEyes® Hybrid contact lenses are an excellent choice for those looking for the best vision possible. Remember when you had only two choices in contact lenses? "Hard" (rigid gas permeable) lenses were best for crisp, clear vision, but were often irritating and uncomfortable. Soft lenses were the most comfortable, but often provided less-than-optimal vision. Now, a technological breakthrough makes having to choose a thing of the past. SynergEyes® hybrid contact lenses offer the best of both worlds. The soft skirt offers all day comfort while the "breathable" rigid center keeps eyes healthy while providing crisp, clear vision… even at night.
SynergEyes® offers a wide variety of hybrid contact lenses to meet your visual needs. Whether you have Astigmatism, need vision correction for distance, close up, reading or to help correct Keratoconus, or post LASIK or RK, SynergEyes® contact lenses will provide you with comfortable and crisp vision all day long.
Imagine Life in DAILIES
DAILIES® brand contact lenses provide outstanding comfort and convenience for a wide-range of vision conditions.
---
Related Pages