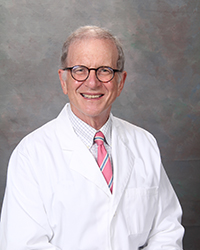 Dr. Barry Leader, M.D., is a highly experienced and respected comprehensive ophthalmologist, who has practiced throughout Uptown New Orleans and Metairie for three decades and counting. Dr. Leader is known throughout the New Orleans medical community for being the first ophthalmologist to serve as Touro Infirmary's president of medical staff throughout its more than 150-year history, in addition to serving as the president of the medical staff at the Eye, Ear, Nose and Throat Hospital from 1993 until 1995. Most recently, Dr. Leader was named one of 2022's top five comprehensive ophthalmologists in the Orleans/Jefferson Parish area by Inside New Orleans Magazine.
He graduated with academic distinction and several honors from the University of Virginia, then continued his medical studies at Tulane University where he received his M.D. degree. Soon after, he completed an internship at Charity Hospital and a residency at the Ochsner Clinic. Before beginning his work at a practice, he completed an intensive fellowship at Louisiana State University on advanced glaucoma management and complex cataract surgery, led by internationally renowned glaucoma expert, Dr. Thom Zimmerman.
He is a compassionate provider, committed to helping not only his patients receive the latest and greatest treatments in eye care, but people throughout the world. Dr. Leader has written several journal articles and co-edited a book on glaucoma and diseases of the optic nerve, in addition to speaking at numerous medical meetings in the United States, Spain, Greece, Israel, Norway, Korea and Hong Kong.
Although he was born and raised in Virginia, Dr. Leader loves living in New Orleans and values the unique culture and people of south Louisiana. He lives in the Lakefront area with his wife, Charlotte, and their two children Jonathan and Rachel. Aside from his work, his other passions include golf, photography, skiing and just laughing with family and friends.