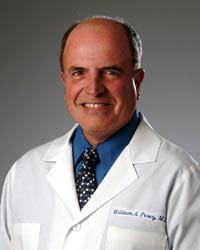 William A. Perez, M.D., has been providing quality eye care to thousands of families in the metropolitan area of New Orleans for over twenty-five years.
Dr. Perez, who is bilingual, began to pursue the "American dream" at the early age of 12 when his family fled the communist regime of Fidel Castro in Cuba.
He is a graduate of LSU Medical School and completed his residency at Alton Ochsner Foundation Hospital.
During his two and one half decades in private practice as a Board Certified Ophthalmologist, Dr. Perez has performed thousands of ocular surgical procedures. He is considered a leader in the field of laser vision correction, cataract and intraocular lens surgery. His skill as a Doctor of Medicine is as well known as his commitment and dedication is to his patients.
His expertise as a diagnostician and surgeon combined with his concern for his patients' well being, make him highly respected and admired, not only by the individuals that he serves, but also by his fellow colleagues. Dr. Perez is greatly involved in the international community by providing charitable eye care and surgery to those less fortunate in underdeveloped nations.
He is one of the founders of the Eye Laser Institute, where he performs outpatient Laser Vision Correction Surgery.